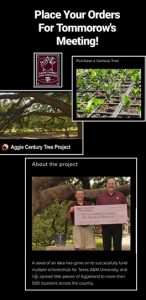 Remember to place your orders for Century Tree seedlings! 🌳
Andy Duffy Class of '78, founder of The Century Tree Project will bring our orders to our meeting tomorrow night, saving $20 in shipping fees!
Be sure to mention Montgomery County Moms Club.
Because Andy will donate $20 to our club for every order he receives. — Thank you Andy!
Click here to order -> https://www.aggiecenturytreeproject.com/purchase/