Howdy! The final Goodie Bag for the 2019-2020 year will be changed to a pick-up at 3 different locations due to the Shelter in Place order.
We will post more information as we get closer.
link: https://montgomeryco.aggiemoms.org/goodie-bags-for-montgomery-county-aggie-students/
MCAMC Goodie Bag Team
Christine, Joan and Connie


Click on the "Aggie Authors" tab on Main Menu above to purchase tickets, sponsorships, & for more details!

Goodie Bag Delivery Day!
WHOOP!!!

Click below for sponsorship forms and information.
Goodie-bag
DEADLINE to order is Friday August 16, 2019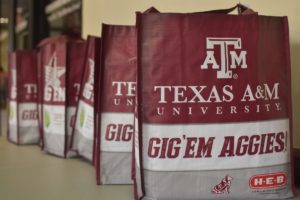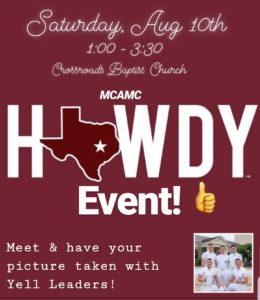 This event is for new and returning students and their parents! We're so excited to meet all or our new Aggies & their Moms! We'll have Yell Leaders, shopping, & so much great info! We're kicking things off in a big way! Whoop! — See you there! 👍
Crossroads Baptist Church
5000 College Park Dr, The Woodlands, TX 77384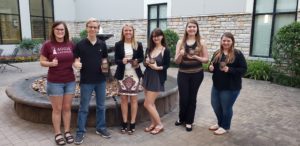 Congratulations to our Graduating Seniors and their families! Whoop!!!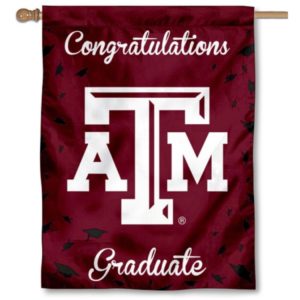 We're excited to be hosting our final meeting for the 2018-2019 year!📚
.
Thursday, May 16 at 7:00 PM
Crossroads Baptist Church
5000 College Park Dr, The Woodlands, TX 77384
.
We know it's a busy time with so many new Aggie graduates! We will be recognizing our graduates and scholarship recipients with a recognition dinner.👩‍🎓👨‍🎓 🎉
.
Please RSVP on your evite 😊
.
Looking forward to seeing you there!
Gig'em! 👍
Your Graduate's information no later than Thursday, April 11, please see post.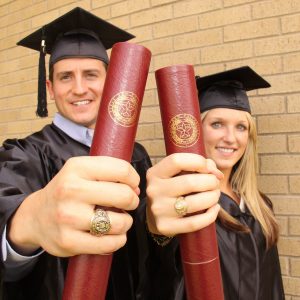 Next Meeting April 11th.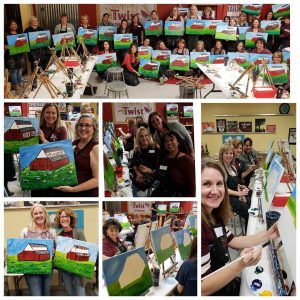 Aggie Moms Social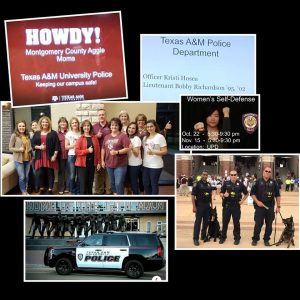 Aggie Moms meeting with Texas A&M Police in October 2018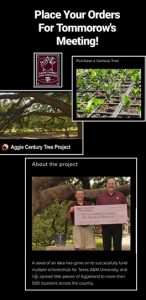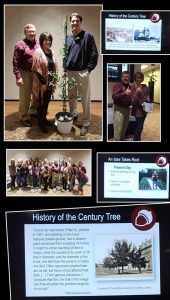 Andy Duffy '78 with his Century Tree Project at our November meeting.
Andy shared the fascinating history of Texas A&M and our Century Tree. For those that don't know, the Century Tree is the huge Live Oak tree in front of the Academic Building, planted under the direction of Dr. E.J. Kyle in 1898, which is also the same year that Laurence Sullivan Ross became the President of Texas Agricultural & Mechanical College.
Andy is passionate about Texas A&M and Aggies. He has raised over $100,000 which goes towards several scholarships he has founded. These scholarships are funded by selling seedlings of our beloved Century Tree.
________________________________________
Congratulations to the MCAMC 2018 Scholarship Winners!! 
Jaime Baeza, Shannon Caletka, Anna Councill, Kaetlyn Fuchigami, Jessica Lawrence, Kiersten Lease, Samantha Nichols, Abigail Roberson and Mikayla Wilkins
---
Welcome to the Montgomery County Aggie Moms' Club Website
The Montgomery County Texas A&M University Mothers' Club is one of the more than one hundred Aggie Moms Clubs across the country.  We are organized exclusively for charitable and educational purposes.
"We strive by individual and united effort to contribute in every way to the welfare of the students at Texas A&M University and to cooperate with the University in maintaining a high standard of moral conduct and intellectual attainment…" and we make new friends and have fun in the process!
Aggie Moms are proud, proud of Texas A&M University, proud of the daughters and sons they send to Texas A&M and proud of making a contribution: to the education of their Aggies, to the future of Texas A&M University and to the future of the Great State of Texas.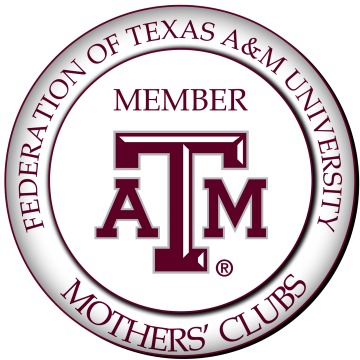 Montgomery County Aggie Moms Est. 1979
P.O. Box 1796
Conroe, TX 77305-1796
email address:  montgomerycomoms@aggienetwork.com
website: https://montgomeryco.aggiemoms.org
Meeting Information: Currently, we meet the 2nd (second) Thursday of the month at Crossroads Baptist Church – 5000 College Park Drive, The Woodlands, TX 77384.  For more information, contact our VP of Membership at mcamcvpmembership@gmail.com